What is Salesforce
Organizations were in need of a cloud CRM to deal with all sorts of customer concerns varying from marketing and sales to customer service - to streamline the enterprise and help in saving valuable resources and time.
Salesforce was founded in 1999 by former Oracle executive Marc Benioff, Parker Harris, Dave Moellenhoff, and Frank Dominguez - with a vision to reinvent the Cloud CRM model and now, Salesforce defines the new era of cloud computing.
Below is an image which shows the power of Salesforce in today's tech-savvy world. From tech giants like Google and Facebook to your nearby call center, all of them use Salesforce services and products to solve their problems.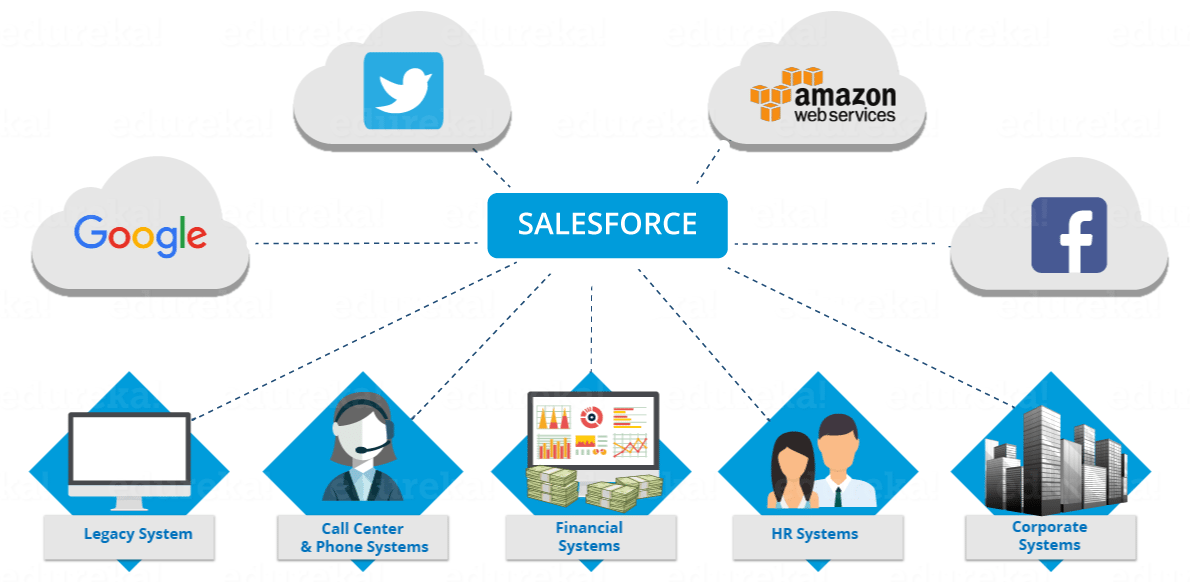 Salesforce started as Software as a Service (SaaS) CRM company. Salesforce now provides various software solutions and a platform for users and developers to develop and distribute custom software. Salesforce.com is based on multi-tenant architecture. This means that multiple customers share common technology and all run on the latest release. You don't have to worry about the application or infrastructure upgrades – they happen automatically. This helps your organization focus on innovation rather than managing technology.
Why Salesforce?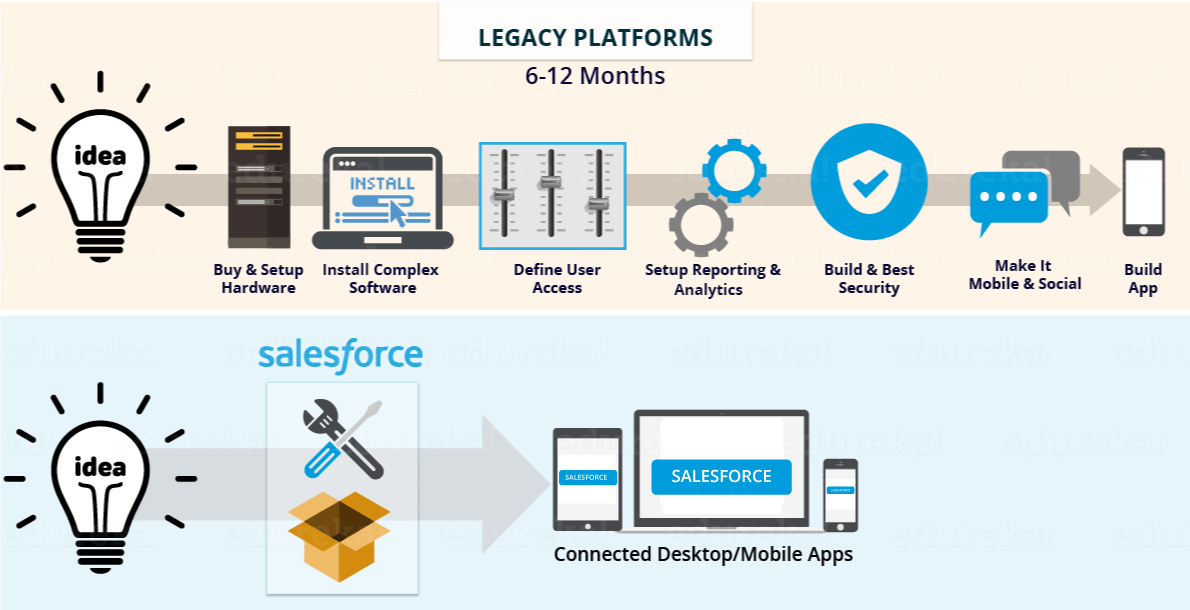 As seen in the above image, Salesforce provides you with the fastest path from Idea to App. You can concentrate on building your app using Salesforce tools, rather than building the infrastructure and tools yourself. This can save you years of time and millions of dollars
Salesforce customers generally say that it's unique for three major reasons:
Fast – Traditional CRM software can take more than a year to deploy, compare that to months or even weeks with Salesforce.
Easy – Salesforce wins in the easy to use category hands down. You can spend more time putting it to use and less time figuring it out.
Effective – Because it is easy to use and can be customized to meet business needs, customers find Salesforce very effective.
Salesforce is in the cloud, so your team can use it from anywhere with access to the internet.
If you are a business that is rapidly changing or you are a seasoned company that's been around for years, your business is probably changing too. Salesforce is completely scalable to your growth.
Salesforce seamlessly integrates with 3rd party apps. If you want to integrate Salesforce with Gmail you can do it, if you want to integrate it with your accounting software you can do that too. On the other hand, integration is tough with other CRMs.
Salesforce is affordable, especially if you consider its vast variety of capabilities. Even startups and small business can use Salesforce.
Why Should You Learn Salesforce?
In the past, you may have learnt different technologies and later found out that you can't do much using it yourself or in the industry. Salesforce isn't like other technologies which are difficult to learn and even more difficult to get experienced in. Salesforce is a skill that you can learn whenever you want, wherever you want and get recognized across the world. It is a skill that thousands of companies use to make their business successful.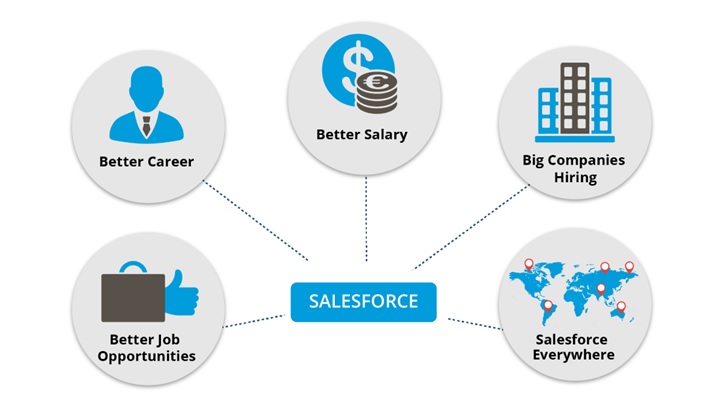 As seen in the above image, learning Salesforce is advantageous and can provide a boost to your career. If you are a professional looking for a technology or career change, then you should definitely consider Salesforce for the following reasons:
Salesforce has a customer base of over 300,000 companies comprising of large scale, medium scale and small scale enterprises which require Salesforce professionals.
Big companies like Facebook, Google, Twitter, General Electric, HCL and others use Salesforce. Learning Salesforce can help you get recognized and land a job in such top companies.
Learning Salesforce can help you increase your salary.
Salesforce technology is being used by organizations across the world, so you can easily find opportunities everywhere
As per business insider, SFDC Administrator & Developer has highest average salary across all jobs.
Average Pay for Salesforce Admin & Developers 8 L - 15L per annum
As per Indeed.com data, 200% global jump in Salesforce jobs since Jan 2016